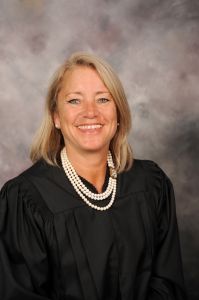 Hon. Janice Cunningham, Chair
Eaton County Circuit Court
jcunningham@eatoncounty.org
Judge Cunningham was elected to the Eaton County Circuit Court beginning January 1, 2013 after over 25 years in private practice.  She is one of two Circuit Court judges and they both hear civil, criminal and family law cases.  In addition to her normal case load, Judge Cunningham presides over the Family Drug Court (SAFE-T),  the  Adult  Drug Court  Program and Veterans Court.  She is also the judicial volunteer for the SMILE program.  Judge Cunningham is an adjunct professor in Family Law at the Thomas M. Cooley Law School, serves on the Executive Board for the Michigan Judges Association and is a frequent lecturer for ICLE, the State Bar of Michigan/Family law section, the Michigan Judicial Institute and the Family Law Institute.
The Committee annually reviews the Bylaws and if necessary, submits recommended modifications to the Executive Committee.  Upon request reviews questions and/or proposed amendments regarding the Bylaws.
The current Bylaws of the Michigan Judges Association.