President – Hon. Tracey A. Yokich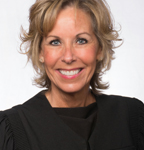 Judge Yokich was appointed to the Macomb County Probate bench by Governor Jennifer M. Granholm on July 1, 2003 and was elected to the Macomb County Circuit Court in 2004. She is a 1982 graduate of James Madison College at Michigan State University and received her Juris Doctorate from the University of Detroit School of Law in 1985. In 1986, Judge Yokich clerked for the Hon. George Clifton Edwards, Jr. in the United States Court of Appeals for the Sixth Circuit.
Judge Yokich served as a Macomb County Assistant Prosecuting Attorney, from 1986 to 1989, Macomb County Assistant Corporation Counsel from 1989 to 1990, and returned to the Office of the Prosecuting Attorney in 1997.
She has also served three terms in the Michigan House of Representatives representing the citizens of Eastpointe, St. Clair Shores, Lake Township and Harrison Township from 1991-1996. During her tenure in the Michigan House of Representatives, Judge Yokich served on the Appropriations Committee, Judiciary Committee, Public Health Committee, and the Conservation, Environment, and Great Lakes Committee.
Judge Yokich is a board member of the Michigan Air Guard Historical Association, a Michigan State Bar Foundation Fellow, and is active with the Michigan Judges Association. She is also a member of the Selfridge Base Community Council, Macomb County Bar Association, and serves as a board member for Children's Hospital of Michigan. Judge Yokich served in the Michigan Air National Guard from 1995-2006.
President Elect – Hon. Pamela Lightvoet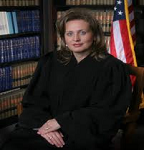 Hon. Pamela L. Lightvoet was elected to the Kalamazoo County Circuit Court Bench in 2006. She received her Bachelor of Arts degree from Purdue University in 1989 and a Juris Doctor from Detroit College of Law in 1992.  She practiced as an insurance defense attorney with James, Dark and Brill from 1993 to 2006.  She was a partner in the firm from 2001 until her election to the bench in 2006.
Judge Lightvoet has been active in the Michigan Judges Association since 2007. Among other committees/workgroups she has served on MJA's Rules Committee, as Chair of MJA's Outreach Committee and is currently on the Legislative Committee. She was elected as an MJA Officer 2014. Judge Lightvoet has served as a member of the State Bar of Michigan's Judicial Council from 2011 – present, and on the SBM's Judicial Ethics Committee since 2015. The Supreme Court appointed Judge Lightvoet to the Michigan Court Reporting and Recording Board of Review from 2013- present and as Kalamazoo County's Business Court Judge from 2014 until her resignation from that court in 2016.
Vice President – Hon. Jon A. Van Allsburg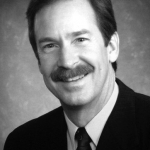 Hon. Jon A. Van Allsburg  is Chief Judge of the 20th Circuit Court, where he is assigned to the Family Division, Business Court, and hears all appeals from the District Court and administrative appeals.  He is an honors graduate of the MSU College of Law, and spent more than 20 years in the practice of law before he was elected to the bench.  He also taught business law at both Grand Valley State University and Hope College.
Judge Van Allsburg has served in the Family Violence Department of the Nation Council of Juvenile and Family Court Judges, and is currently Vice President of the Michigan Judges Association.  His hobbies include reading, running, skiing, and "high-pointing", which is summiting the highest point in each of the 50 states – he has completed 41.
Secretary – Hon. Martha Anderson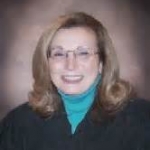 The Hon. Martha D. Anderson was born in Onna, Italy and immigrated to the United States as a small child. A first-generation Italian American, Judge Anderson graduated with a Bachelor of Arts degree with distinction from Wayne State University and earned her Juris Doctorate from University of Detroit Law School. In 1979, Judge Anderson began her decades of public service as an Oakland County Circuit Court Friend of the Court Referee, serving in this capacity for 23 years. In 2002, she was elected to the Oakland County Circuit Court bench, and subsequently re-elected in 2008 and 2014, presiding on both the Family and Civil/Criminal Divisions. Judge Anderson has served and continues to serve the state and local legal community on numerous committees, boards and executive boards, including receiving appointments by Michigan's Governor to various task forces and legislative committees. She is an active member of the State Bar of Michigan, Oakland County Bar Association, Italian American Bar Association, American Inns of Court – OCBA Chapter, and Michigan Judges Association, and has been recognized by various organizations for her distinguished public service, scholarly contributions and judicial excellence.
Treasurer – Hon. Christopher Yates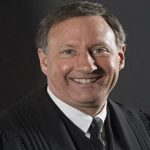 Hon. Christopher P. Yates was appointed to the Kent County Circuit Court in 2008, and has served in both the Criminal/Civil Division and the Family Division. He was assigned to run the court's specialized business docket in 2012. Prior to his judgeship, he served as a law clerk to Chief Judge James P. Churchill of the U.S. District Court for the Eastern District of Michigan and to Hon. Ralph B. Guy, Jr., of the U.S. Court of Appeals for the Sixth Circuit. Judge Yates also has worked as a federal prosecutor in Detroit, as an attorney-advisor in the Office of Legal Counsel at the U.S. Department of Justice in Washington, DC, as chief federal public defender for the Western District of Michigan, and as a partner in two private law firms.                               
Past President – Hon. Paul Stutesman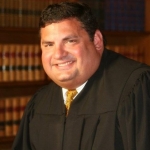 Judge Stutesman was appointed to the 45th Circuit Court on August 1, 2005. He received his B.A degree from Western Michigan University in 1984 and then graduated from the DePaul University, College of Law in 1987. He practiced in Chicago until moving back home to Three Rivers in 1992. His practice involved plaintiff's personal injury and criminal defense cases until his appointment to the bench.
He was elected to the Executive Committee of the MJA in 2008. He then became Chair of the Rules Committee until being proposed for as an officer four years ago. He is on the Academic Advisory Board for the Circuit Court and Court of Appeals with the Michigan Judicial Institute and presents on various topics each year for various MJI presentations.   He enjoys teaching with Justice Viviano at the New Judges School on Jury Administration.
He served on the Technology Implementation Committee; the Ability to Pay Taskforce; the Jury Reform Study Group and is currently on the the E-Filing Proposal Review Committee; the Regional Opioid Taskforce and the Criminal Justice Policy Commission.